Why Call Revere Roofing Company if you need your commercial flat rubber roof repaired or replaced in Blacklick, Ohio?
You have a commercial flat rubber roof on your building, and you want to know who the best company is to call out for an inspection? The answer is Revere Roofing Company. We are experts with this type of roofing material, which means that you won't need to worry about getting it repaired or replaced. Here are the reasons why we're the right choice for you!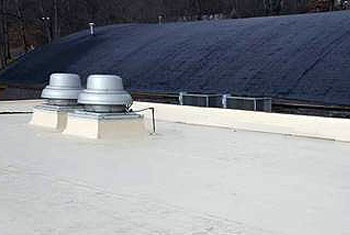 Our Experience with Rubber Roofs
Revere Roofing Company is well known for our experience when it comes to commercial flat rubber roofs. There are very few companies out there that have the same level of knowledge in this type of roofing material like we do. We can offer you an honest inspection, not only in regards to the condition of your existing roof but also on what kind of roofing product would best suit your needs going forward.
We Provide a Wide Range of Flat Rubber Roof Services
Revere Roofing Company has been an authority in commercial flat rubber roof services for years, and we can safely say that we know everything there is to know about the product. Believe it or not, not all rubber roofs are created equal- some products will last you longer than others, and this is something that we ensure you take into account when providing our service.
Free Estimates on New Rubber Roofs
Of course, if you feel as though your current flat rubber roof should be replaced with another one just like it, then our team would be happy to provide a free estimate on a new roof installation. Our company has a wide range of experience with other types of roofs as well, and we can replace just about any roofing material that is currently being used on your building.
Our Work is Backed up to a 20-Year Warranty
At Revere Roofing Company, we stand behind every roofing job that we do. We offer up to a 20-year warranty on our work for any new commercial flat rubber roofs that are installed on your building, and this means that if there are any issues with the workmanship of the installation, then you can contact us for repairs or replacements. Talk about peace of mind!
Expert Rubber Roof Repair Services
The beauty about having an experienced company like ours take care of your rubber roof is that we can provide expert repair services as well as replacement. You don't have to worry about calling multiple companies out for inspections and quotes when it comes to getting your flat rubber roof fixed ASAP. Whether you're looking for a full replacement or fast repairs, we do it all!
Call Revere Roofing Company if you're looking for the best company to handle your commercial flat rubber roof this year! We know how to get the job done, and we'll make sure that you get an honest inspection of your current structure. If it's time to replace or repair your existing rubber roof, then we'll do everything in our power to ensure easy and hassle-free service.