Long-Lasting Slate Roofing
Slate roofing provides gorgeous and charismatic charm to virtually any property with unmatched durability and beauty. Whether you have a residential or commercial property, Revere Roofing Company's technicians have experience in both conventional and modern slate roof construction.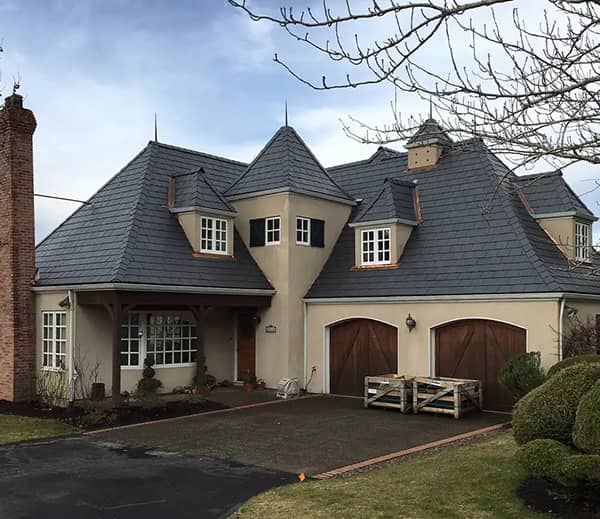 Since most roofs require extra steps to ensure they are stable enough for slate installation, it's essential to work with an experienced roofer for your new slate roof. As we've done since 1997, we continue to be one of the leading roofing contractors in northeastern Ohio, proudly serving local businesses and homeowners.
Benefits of Installing a Slate Roof
Slate roofing provides incredible color and variety, as each shingle is unique. Just a few of the hues that can show up in slate include black, gray, green, red and purple. Slate also offers variation in texture, which gives each roof a custom appearance.
Slate Lasts for a Lifetime
If you have interest in installing a slate roof, know that you will never have to replace your roofing system again when you choose this material. Slate boasts a lifespan of more than a century. In fact, many slate roofs installed on historic properties are the original. Slate also:
Is naturally resistant to fire, mold and pests.
Doesn't absorb water, allowing your roof to resist water damage.
Is environmentally friendly, because it is a natural stone.
Boosts your property value.
Provides a custom curb appeal, as no two slate roofs look alike.
If you love the look of slate but aren't ready to invest in a slate roof, we also offer designer shingle options, which consist of asphalt but replicate the unique look of slate.
We Reinforce the Roof to Support Slate Installation
Because slate is very heavy, most roofing systems will need additional structural reinforcement to support this material. During your on-site consultation, we can let you know what steps to expect, should you decide to move forward with a slate roofing installation.
Reach Out to Us Today
Contact Revere Roofing Company to learn more about our slate roofing installation process. Call us today at (740) 392-9450 to schedule an on-site estimate or use our contact form to connect with us.