Flat Roofing Specialists
Revere Roofing Company works with commercial businesses to offer flat and low-slope roof installation. Because flat roofs don't shed water the way traditional sloped roofs do, it's essential to work with a roofing contractor who has experience installing flat roofing materials for your roof replacement.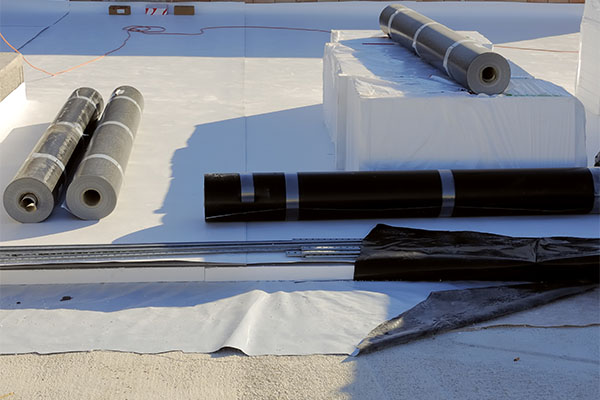 We have been in business for 25 years and are an award-winning roofing company ready to provide you with unparalleled craftsmanship, service and products for your new flat roof. We also install flat roofs for residential properties, such as on top of garages, balconies and homes.
We are proud to be a GAF certified roofer, meaning we can offer you extended warranties for your new flat roof system with us. During your on-site consultation, Revere Roofing Company can review the features and benefits of our flat roofing materials to help you make the best decision for your property.
Materials We Offer
Our team offers ethylene propylene diene monomer (EPDM) and thermoplastic polyolefin (TPO) for your flat roofing needs.
TPO
TPO is a single-ply membrane usable on both flat and low-slope commercial roofs. TPO membranes combine polypropylene (plastic) and ethylene propylene (rubber) to create a stable membrane that can last more than 30 years. TPO is heat-reflective, energy-efficient and comes in white, gray or tan. It is also an easy-to-repair roofing material.
EPDM
EPDM is a type of rubber roof membrane that provides excellent weather protection in a variety of climates. It is a great choice for office buildings, warehouses, hospitals and schools. EPDM is affordable, lightweight and resistant to damage from temperature fluctuations. It can last up to 20 years with the right care.
Contact Us Today for More Information
Book your consultation with Revere Roofing Company by calling (740) 392-9450. You can also use our online contact form to reach out to us. We will respond to you shortly.