Professional Gutter Installation
As a professional roofing contractor since 1997, Revere Roofing Company knows just how crucial your gutter system is for protecting your roof and your home. Whether you have a commercial warehouse or a residential property, gutters direct water away from your foundation and support your roofing system in shedding water. We provide gutter installation in the material of your choice, including multiple color and style selection options.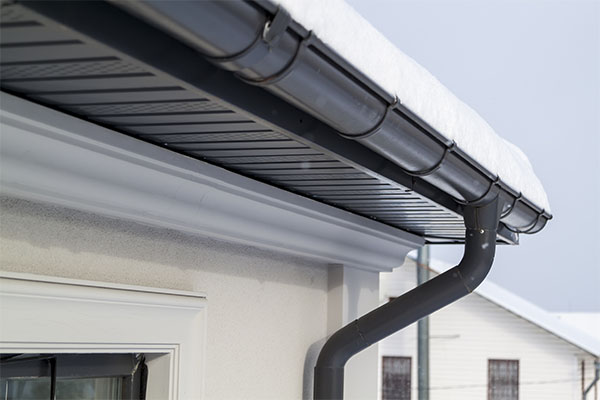 Types of Gutters We Offer
Aluminum Gutters
The versatility of aluminum is what makes this the most practical gutter installation material choice for both residential and commercial applications. While both copper and galvanized gutters come in sections, we extrude aluminum gutters on-site to match your building's exact needs. Aluminum will never rust, so unless it suffers damage, the material can last a lifetime. Aluminum is also available in a wide variety of colors. We offer five- and six-inch aluminum gutters in half-round and K styles.
Copper Gutters
Copper gutters provide a distinctive look for residential and commercial applications. Available in traditional half-round or K styles, copper will naturally oxidize from exposure the elements, giving your gutters a greenish-gray color over time. For those wanting the look of new copper year-round, we can treat the gutters with a sealer that will preserve their new appearance. We offer copper gutters in both 5- and 6-inch sizes.
Steel Gutters
Half-round steel gutters have a classic look that frequently appears on historic homes. The half-round gutters often use roof hangers for installation. They match up well with slate or shake roofs that do not have vertical fascia boards. The steel is quite strong and can last a very long time. The drawback to these gutters is that they are prone to rusting over time. Like copper, steel gutters are available in both 5- and 6-inch sizes.
Box Gutters
Box gutters typically appear in commercial applications where a significant roof area needs draining and where standard gutter sizes won't handle the typical water flow. Box gutters consist of a wide variety of materials, typically making them a custom design each time.
Contact Us Today for Your Consultation
Schedule a consultation with Revere Roofing Company for your commercial or residential gutter installation needs. Call us today at (740) 392-9450 or submit your information via our online contact form, and we will be in touch soon.