Beautiful Wood Shake Roofing
A shake is a basic wooden shingle made from split logs, with most shakes in North America consisting of Western Red Cedar. Cedar shakes provide a beautiful, rustic look for your home and take on a custom hue as they age. No two wood shake roofs will look alike. Revere Roofing Company installs and replaces wood shake roofs for both residential and commercial customers. With 25 years of experience in the industry, we can help you decide if a wood shake roof is the right decision for your roofing system.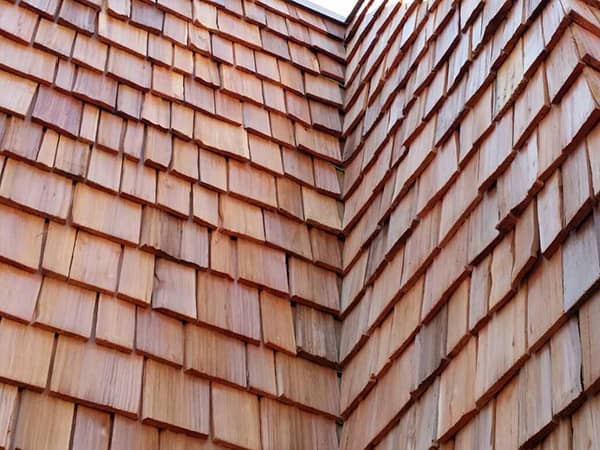 The Benefits of Wood Shakes
One of the primary benefits of a wood shake roof is its beauty. Each shingle is unique and will create a completely custom appearance for your property. While you can stain cedar shakes to be dark or light, you can also leave them untreated, in which case they will darken over time to a gray or silver color. Additionally, wood shake roofs respond well to areas that have higher humidity. They stand up to impact damage, such as from hail. Cedar shakes are resistant to damage from high winds and pests.
Low-Maintenance Wood Shake
Cedar roofs can last up to 30 years when properly installed and maintained. Although they are more expensive than asphalt shingles, homeowners receive a great value, because few alternatives can stand up to the elements as beautifully as a cedar roof.
Wood shake systems are also low maintenance, only requiring annual inspections and a proper drainage system, just like any roof, to keep the shingles dry and damage-free. Cedar shakes can be an excellent investment for homeowners who want years of natural beauty with low maintenance requirements.
Book a Consultation for a Wood Shake Roof
Is a wood shake roof the right choice for your property? Contact Revere Roofing Company today to learn more about this roofing material and to book an on-site consultation. Call us at (740) 392-9450 or let us know where we can reach you by filling out our contact form.