Roofing Installation, Repair & Maintenance Services
Revere Roofing Company provides comprehensive roof replacement and roofing installation services for a variety of roofing materials. Whether you are a residential or commercial customer, we can remove your old roofing system and professionally install a new one for lasting durability and performance. After 25-plus years in business, we have the skill, knowledge and craftsmanship to complete your roofing work according to your unique needs. We are proud to be among the 2% of roofers in the nation certified as a GAF Master Elite® Contractor to bring you exceptional installation services.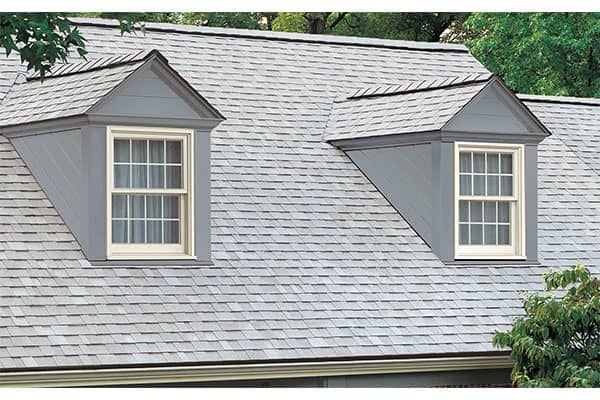 If we determine that your roof has localized damage and a full replacement is not necessary, Revere Roofing Company can complete expert repairs to make it watertight. We also offer routine roof maintenance service to catch small problems before they become larger, more expensive repairs
Emergency Roofing Services
When extreme weather conditions damage your roof, our 24/7 response team comes to your aid to provide quick interim repairs such as tarping, repairing high-wind blown-offs, fixing leaks to protect your house. We will then create a strategy for long-term repair & maintenance, and start the work at your convenience. Our experts will also diligently record the damage and repairs to help file your insurance claims.
Roofing Materials We Use
Our team works with both steep-slope and low-slope roofing systems to meet your needs. We can replace the following roofing materials.
Designer Shingles
As a GAF-certified roofer, we offer lifetime shingle roofing systems from GAF when you choose designer shingles. They come in beautiful color and style options with unparalleled durability. Because of their flexible nature, they are great at hiding framing imperfections and minor defects. You can choose styles that mimic materials such as wood shake and slate but that have the cost of asphalt.
Slate
Slate roofing is a classic choice for a variety of roofing applications. It combines durability, beauty and charm to fit the personality of many buildings. While traditional slate requires additional structural engineering, there are new systems that combine real slate with specialized waterproofing materials. We can help you decide if slate is the right choice for you during your on-site consultation.
Wood Shakes
A shake is a basic wooden shingle, traditionally used for both roofing and siding for centuries. Shakes typically consist of red cedar and, when properly installed, provide good weather protection and a gorgeous rustic aesthetic for your property.
Metal Roofing
Metal roofing comes in a range of shapes, designs and colors to suit your property. Metal lasts longer than almost any other type of roofing. On account of its durability, metal roofs come with extended warranties. Most steel roofs have a baked enamel finish that can resist rust for many years. We offer both standing seam metal and steel shingles for our customers.
Flat Roofs
We install EPDM, a high-performance synthetic rubber compound, on low-slope roofs. We also install TPO, which is a single-ply membrane that works well on both low-slope and flat roofs and can last more than 30 years. Revere Roofing Company also installs roof coatings on flat roofs, which are a cost-effective alternative to a full roof replacement and can add a decade or more of life to an existing roof.
We Also Install New Gutters
Revere Roofing Company can assist you with all your residential and commercial gutter needs. We install aluminum, copper, galvanized and box-style gutters to support your roofing system and to protect your property from water damage. During your consultation, we can help you decide which gutter style and system would best meet your needs.
Book an On-Site Consultation Today
Contact Revere Roofing Company to book your on-site consultation for your residential or commercial roofing installation, repair or maintenance service. Call us at (740) 392-9450 or use our online contact form to reach our team.