Why call Revere Roofing Company if my commercial roof has been damaged by freezing temps or ice in Columbus, Ohio?
It takes a lot to run any business. Business owners have to think about the services and products they offer their customers. They have to think about the appearances of their structures as well. Winter weather conditions can often be aggressive. They can frequently take a toll on how businesses look from the outside, too. Ice and frigid temperatures can be quite unforgiving in Columbus, Ohio. Those things can lead to significant roof deterioration as well. If an entrepreneur has a commercial roof in Columbus that is now ruined as the result of inclement weather, you are not alone. That's because he can always call Revere Roofing Company. Revere Roofing Company is a full-service business that accommodates all sorts of commercial and residential roofing system requests for customers in the region.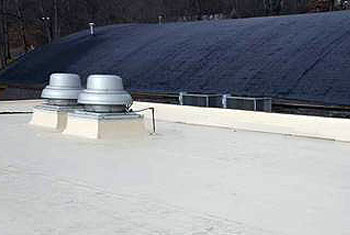 How can an individual tell if his commercial roof was damaged as the result of cold weather or ice? There are all sorts of helpful hints. Shingles that are cracked or buckled can signify weather damage from the winter months. It can help to gaze inside of gutters, too. If there are significant shingle granules inside of them, wintertime damage could be to blame. People sometimes head up to attics to assess them for indications of winter destruction. If a lot of daylight is able to get inside of an attic, then people need to take immediate action.
It's critical for people to assess chimney flashing matters. Irregularities that involve chimney flashing can sometimes denote wintertime commercial roofing damage.
Ice dams can be bad news for commercial roofing system owners. Air that's warm rises inside of structures and leads to shingle heating actions. This forces snow that's there to melt. The water then makes its way over to the sides of the roofing system. Cold temperatures freeze the H20 again at the eaves. This leads to ice accumulation. The accumulation forces water back up the roof. The accumulation with time triggers the gathering of water below the shingles. This water can make its way into commercial spaces and cause roof leaks or structural damages.
The team members who work for Revere Roofing Company are all more than qualified to assist commercial customers with winter roof destruction and its effects. Revere Roofing Company is a local business that has a solid track record with commercial and residential roofing systems alike. It doesn't matter if a customer needs to repair a roof or even simply maintain one for the future. This company is associated with commercial roofing assistance that's quite simply a cut above the rest.
Revere Roofing Company is also a business that has affordable and reasonable rates. Dealing with commercial roofing problems can sometimes be pretty costly. However, it's never too costly for the people in Columbus, Ohio who choose to repair a roof that is having an issue. It will cost much more to replace a roof if proper repairs are not completed in a timely manner. The Revere Roofing Company does whatever it can to present customers with budget-friendly commercial roofing services.