Why Call Revere Roofing Company if you need your commercial flat rubber roof repaired or replaced in Hilliard, Ohio?
A commercial flat rubber roof is a common and affordable roof system.  However, that does not mean that hiring just anyone to make a repair is a wise idea. Improper repairs to a flat roof can cause more issues and possibly lead to the need for early replacement, which will cost a lot of money. Revere Roofing Company is the service provider that every flat roof owner in Hilliard, Ohio needs for a roof repair or replacement.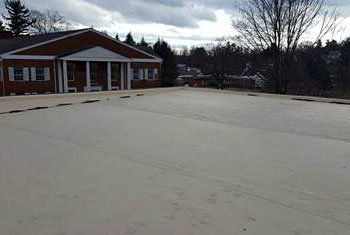 Same-Day Service
At Revere Roofing Company, responds as quickly as possible to all kinds of roofing problems.  They work quickly to provide an on-site visit from a professional flat roof technician who will perform an evaluation, provide minor repairs on the stop or provide recommendations for needed maintenance services or replacement.
Experienced Workers
Revere Roofing Company employees have over 25years of work experience. They have completed a diverse range of repairs for commercial flat rubber roofs from leak investigations and repairs, to clearing away debris and replacing missing roof components. They service both flat roofs as well as pitched roofs with metal and shingles.  Their years of experience ensures that they will complete jobs quickly and efficiently and back most work with warranties that are not offered by less experienced providers.
Estimates
An estimate provides a detailed breakdown of the services that a building owner needs performed on the roof, the type of materials and labor involved and the costs. The estimate tells the roof owner how much time, money and effort needs to be invested in making the repairs. This way, a client can prepare to make the investment.
Commercial Flat Roofs Are More Difficult to Repair
Commercial flat roofs are always more difficult to repair than residential sloped rooftops. A commercial roof is broader, covers more area and is often connected to complex HVAC or electrical systems. So, it's never a good idea for an amateur to perform a DIY roof repair with simple tools and a lack of experience.  Using the wrong materials or techniques can damage the roof further and increase the damage inside the building.  Cheap improper repairs leak and will cost more that more expensive repairs that are done correctly.  Revere Roofing Company is the provider that business owners need to carry out repairs or replacements on their commercial flat rubber roofs in Hilliard, Ohio.