Why call Revere Roofing Company if You Need Your Commercial Flat Rubber Roof Repaired or Replaced in Hilliard, Ohio?
When a rubber roof is maintained well, it can last for decades. When someone has a commercial flat rubber roof that they need to have repaired or replaced, they can trust that Revere Roofing Company will provide them with quality services. Any Hilliard, Ohio business owner seeking help with a flat rubber roof should find help through a professional and reliable team.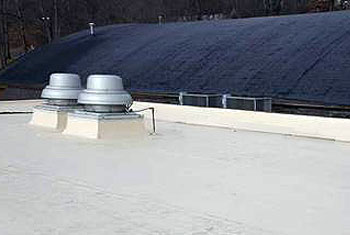 A Rubber Roof Must be Installed Correctly to Last a Long Time:
When someone is investing money in a rubber roof, they need to make sure that the installation work will be done right so that the roof will last a long time. A flat rubber roof is only going to be durable enough to last for twenty or thirty years if it is installed correctly. Business owners can trust the Revere Roofing Company team to know how to install this type of a roof.
The Less a Roofing Team Interrupts a Business's Work, the Better:
When a business is having work completed on its roof, there might be workers around who will get in the way of customers and those who are using the business. The Revere Roofing Company team tries to stay out of the way while working on a roof, and they do their work in an efficient manner so that they can leave a business without spending too much time there.
Revere Roofing Company Features Professionals Who Know All About Flat Rubber Roofs:
The more that people know about a certain type of roof, the better that they will be at handling work on that type of a roof. Those working on a rubber roof have to know what signs to look for to know if the roof needs to have repair work done or if it needs to be replaced. A professional team can spot problems with a rubber roof – such as seam separation and shrinkage – and they can figure out how to deal with those problems.
Issues with Flat Rubber Roofs Should be Resolved Quickly:
If an issue is ignored, a rubber roof can go from being in good shape to being in terrible shape in a relatively short amount of time. The Revere Roofing Company team is ready to step in when they are contacted to look over a roof. They can start working on issues quickly, before they get worse.
Anyone Can Get Help with a Flat Rubber Roof Through Revere Roofing Company:
Those who have a rubber roof in place on a Hilliard, Ohio building should seek out professional services to repair or replace that roof. The older the roof is, the more likely it is to be in need of help. Revere Roofing Company is available to assist those who want their roof to receive quality care.