Why Call Revere Roofing Company if you need your commercial flat rubber roof repaired or replaced in Columbus, Ohio?
Owning and running a business of any kind is a joy. For those who own a business and the building where it is housed, it is imperative to keep that building in good working order. Part of the process of doing so means making sure the roof is in the best possible shape. A good roof will help protect the entire structure. The right roof will also keep it warm during the winter and pleasingly cool during the summer. For many business owners, the answer to this issue is a commercial flat rubber roof. The commercial flat rubber roof has many advantages. However, sometimes things can go wrong. In that case, you'll want to bring in specialists like those at the Revere Roofing Company.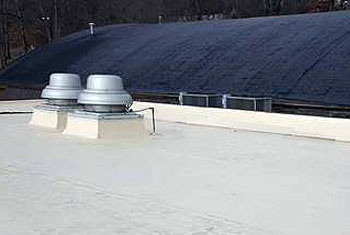 Totally Reliable
This is a company that offers exactly what you want in a roofing service. For one thing, they are totally reliable. That means you can have them at your door when you need them. A commercial flat roof is one that will last a long time. Business owners who put a commercial flat roof on their spaces can expect decades of use from them. However, once something goes wrong with the roof, this can lead to all kinds of problems. Even a minor leak can rapidly cause all kinds of problem. Water can drip on the flooring. Ice can accumulate in the middle of a storm. Wind can get inside. You want the experts to be there to help with any issue you might encounter.
Skilled Expertise
Skilled expertise is one area that is a must when it comes to this kind of roof. A flat rubber roof needs to be handled experienced professionals. That will ensure that the roof is properly fixed right from the first. This where the experts at the Revere Roofing Company can come to your rescue. They know exactly how to fix any commercial flat rubber roof. They will have a look at the roof from a wide variety of angles. That enables them to make decisions about the quality of the roof as it stands in place right now. It also allows them to come up with a plan to fix it. You have their guarantee all work will be done to the highest possible standards.
Very Fast Work
Any kind of problem with a roof of this kind is ultimately an emergency. The roof must be repaired if there is a leak issue. Those at Revere Roofing company can help you figure out what next steps you need to take. You might only need to put in a few repairs and have it good to go once they're done with the work. Or, you might need to think about replacing the entire roof. In that case, again this company is right there to help. They'll help you decide what is going to work best for the commercial rubber roof as well as your long terms plans and budget. They are a valuable ally during the entire process.