Why call Revere Roofing Company if you need your commercial flat rubber EPDM roof repaired or replaced in Dublin, Ohio?
Imagine this… The time has come where you need your roof repaired or even replaced. You know it's time, but you don't know any local contractors. The last thing you want to do is choose the wrong roofing contractor for your commercial flat rubber roof repair or even replacement needs. I mean, you could be causing further damage to your building and end up paying more money in the long run just because you didn't do proper research and hire the right company.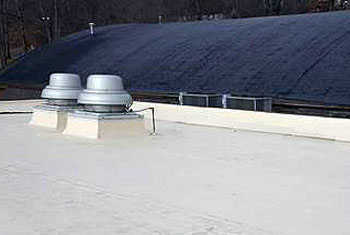 Signs You May Need Roof Repair
The roof is one of the most important parts of any home, and the expert roofers at Revere Roofing Company can help ensure your roof is always in the best shape possible. But how can you tell if your roof needs repair or replacement?
Here are a few signs to look for
Rubber membrane is cracking: After constant exposure to the sun and moisture, rubber will shrink and crack. It's important to fix these issues, so that water does not seep under the memrane and cause damage to your home or business.
The flashing (the material around vents, chimneys, AC units, etc.) is loose or leaking: The flashing is meant to keep moisture from getting into vulnerable areas of the roof. If you notice it has holes or is leaking, it is important to get them fixed so that water cannot get inside.
Buckling or sagging surface: When this happens, you should consider a full replacement of your roof, rather than just a repair. This likely means water has penetrated into the membrane and saturated the insulation below. This then allows it to compress and sink, which holds even more water and compounds the problem.
Old age (beyond 20 years): If your roof is more than 20 years old, you should probably consider replacing it — especially if you've had repairs done on it in the past. An annual inspection of the roof is money well spent to understand how long the roof will likely last and how much that cost will be.
If you detect any of these signs on your roof, give them a call!
Some of the best reasons to call Revere Roofing Company:
They're committed to quality with Lifetime Manufacturer Warranties
They've been in business for 25 years
They offer 24-hour emergency services
Their low-slope roofing systems are guaranteed to last up to 30 years
They specialize in flat roof repairs, full replacements, and new construction of EPDM, TPO and PVC membranes.
Revere Roofing Company specializes in commercial flat roof repair for both flat rubber other single-ply membrane systems. They are one of the premier companies in the industry, and they have the experience and expertise that many others do not. They hold a sterling reputation, and they do fantastic work. Why would anyone go with any other company? If you need your flat EPDM rubber roof repaired, you should call them immediately.