Why Call Revere Roofing Company if you need your commercial flat rubber roof repaired or replaced in Columbus, Ohio?
Rubber roofing, or EPDM, is a common method that is easy to install on the flat roofs of commercial buildings. Like any type of roof, professionals are needed to perform the necessary repairs, replacement or maintenance. Revere Roofing Company provides the right services for the owners of commercial flat rubber roofs in Columbus, Ohio.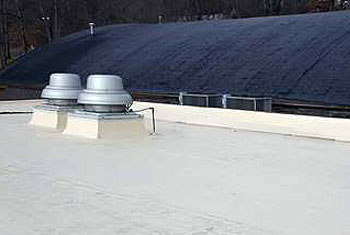 Rubber is a Great Addition to Any Roof
Rubber is a flexible material that is found on vehicle tires. It can expand and contract easily to withstand all levels of pressure. It does not seem like rubber is strong enough to use on the roof, but it is as durable and sustainable as asphalt, clay and other materials. Some manufacturers guarantee that their rubber roofing remain durable for decades.
Rubber is a material that protects the roof, ceiling and floor from being damaged due to inclement weather. The roof protects a building that endures years of strong winds, rain, snow or ice formation. If damage is found, professionals can remove and replace the damaged areas.
Revere Roofing Company contractors are available to inform business property owners about their options. They discuss the different types of roofing choices available based on each client's specific needs. They can provide a budget, review the status of the old roof and then schedule the installation or remodeling project as soon as possible.
Call Us for Flat Rubber Roofing Needs
Rubber is a durable option to use for commercial flat roofs. This EPDM material is one of the single-ply options available for flat roofing. Revere Roofing Company is the right company to use for new installations, repairing or replacing any type of commercial flat rubber roof in Columbus, Ohio.